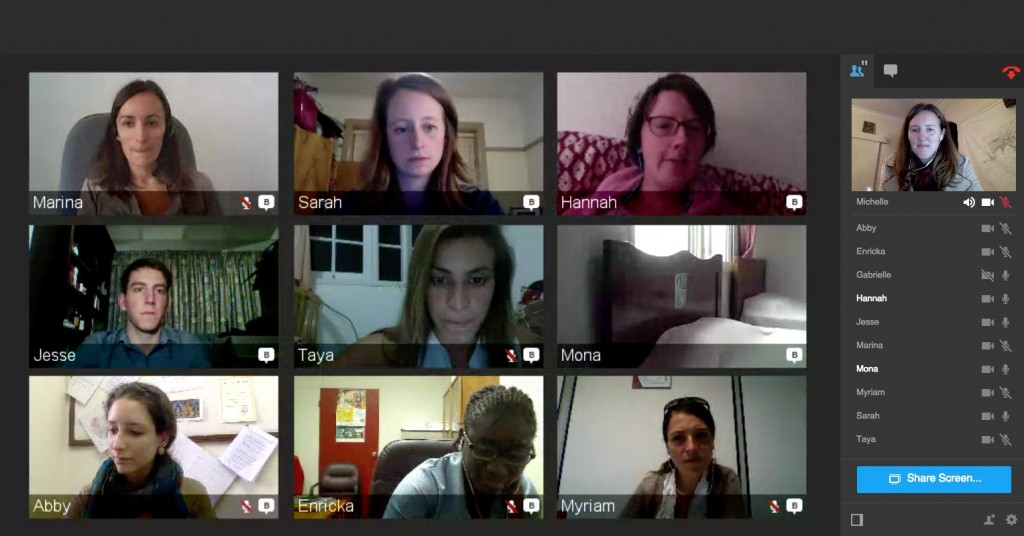 Have you ever thought about…
The relation between youth and elders in environmental governance?

Interactions between youth in rural and urban areas?

What intergenerational equity is?

Migration and sustainable development?
If you answered "yes" to any of the above then join the Youth in Landscape Initiative's interactive webinar series!
Investigating the Continuum of Connections in Landscapes
The first webinar in the 2016 YIL series focused on generating a discussion on the range of connections across space, rural to urban, and across time, from young to elder generations. In this interactive webinar participants were asked to draw on their past experiences and critical thought to brainstorm how these topics play on the landscape scape and sustainable development.
To illustrate what connection or disconnect on a landscape scale looks like a case study was presented by doctoral candidate Hannah Smith about the links between elders and youth in a First Nation community in the U.S., and how their connectedness impacts the sharing traditional knowledge, and their conservation efforts.
Presenters: Gabrielle Schittecatte and Hannah Smith, Youth in Landscapes organising committee
Communicating Across Communities 
So you have a landscape solution to an issue around environmental governance, but how do you know who to consult within a community, and how to motivate them to engaged in your great idea? Communities at all levels represent stakeholders that may need to be consulted, held accountable, and otherwise engaged.
This webinar focused on how to make ideas resonate across communities. Participants discussed how stakeholders can be engaged, and tricks to communicate effectively to diverse communities to convince them of your landscape solution or idea.
Presenters: Gabrielle Schittecatte, Youth in Landscapes organising committee
Leveraging Social Networks for Momentum on the Environmental Agenda 
This webinar explored:
What is a connection between individuals or communities in a landscape?

Are connections between people important for sustainable development?

How can connections between people create momentum around sustainable development solutions?

Why is engaging with people across places and time important?
Presenters: Gabrielle Schittecatte, Youth in Landscapes organising committee
David Tindall, Department of Sociology at the University of British Columbia
Critical thinking, forming ideas and presenting 
Need a pathway to assess information critical, cogently form your own unique ideas, and present them in an innovative way? Learn about how to use critical thinking to engage in landscape topics actively, form solutions, and present your opinions. Engage with speakers interactive to practice these skills in order to present your ideas as clearly and as strongly as possible!
Presenters: Gabrielle Schittecatte, Youth in Landscapes organising committee

***********
2015 webinars
The Landscape Approach, Youth, and the Post-2015 Agenda
Participants learnt  about the landscapes approach and youth's role in environmental and socio economic governance. They gained perspectives on the specific challenges young professionals face while working in the landscapes and post 2015 development agenda context.
**********
Selling and Supporting Your Idea: Pitching and Fundraising (parts 1 and 2)
Participants learnt how to perfectly pitch their ground-breaking ideas and projects. They engaged with special guest speakers to learn about traditional as well as alternative ways to fund their landscape challenge solutions.
***********
The Professional Skills: Critical Thinking and Active Listening
Participants learnt about the subtle skills needed to be effective in all aspects of their work. They came away with a systematic approach to decision making and the listening skills to help them do more with what they hear. We drew parallels between policy analysis, application, and critical thinking to give them a stronger ability to face environmental and socieconomic challenges.
***********
How to apply for the Youth in Landscapes Initiative
Participants learnt about common mistakes made in applications and how to avoid them.