About landscapes
An Integrated Landscape Approach to land management is broadly defined as a framework to integrate policy and practice for multiple land uses, within a given area, to ensure equitable and sustainable use of land while strengthening measures to mitigate and adapt to climate change. It also aims to balance competing demands on land through the implementation of adaptive management strategies.
Although primarily rooted in conservation and the science of landscape ecology, a landscape approach is multi-faceted [1] and seeks to address the increasingly complex and widespread environmental, social and political challenges that transcend traditional management boundaries. As such, it requires a multidisciplinary approach that engages stakeholders at a range of levels from local to national. In order to reflect the multi-faceted nature of landscapes and the diversity of landscape approaches, contest submissions portraying this complexity in an accessible manner will be given special attention.
What is a landscape?
"Landscape = "A place with governance in place"
A place: A landscape is a geographical area that can be of any size — from very small to very large.
With governance in place: There exists institution(s) that will consider options for the landscape and set priorities. The formalization level of this governance can vary, from informal to formal."
Peter Holmgren, On Landscapes – Part 2: What are Landscapes.[2] See also: Part 1: Why are landscapes important?[3]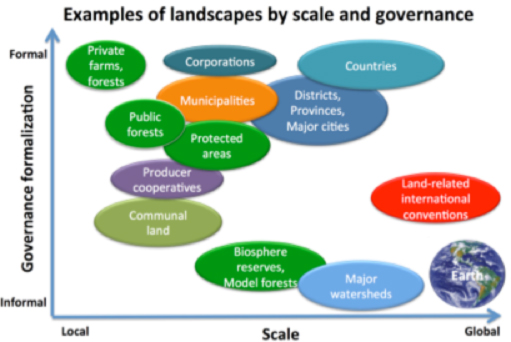 What is a landscape approach?
"A landscape approach is essentially managing complex landscapes in an integrated fashion, in a holistic fashion, incorporating all the different land uses within those landscapes in a single management process"
Key introductory materials: Some thought-starters
Statistics, facts and figures by thematic area
Once again, be creative in linking themes, disciplines, geographic areas, types of data and statistics– special attention will be given to submissions that look at integration of multiple perspectives, interdisciplinarity and take a holistic view.
The global landscape is constantly evolving – Trends and projections predict increasing pressure on landscapes around the world
However, the food crisis is already occurring now
In landscapes around the world, producing food via agriculture remains and increasingly is a central land-use
Forest Landscapes provide crucial services to human well-being – but are facing pressures as well
Productive landscapes: Landscapes are a key economic resource to hundreds of millions worldwide
Beyond timber and income, forest landscapes are central to healthy diets in many parts of the world
Millions depend on landscapes for their energy needs
Landscapes are crucial for the availability and quality of one our most vital resource: water
Landscapes are natural infrastructures, providing numerous environmental and socio-economic benefits to societies, also known as ecosystem services
Landscapes are key interfaces in the climate system, acting both as GHG sinks, and sources
Landscapes are the home to the world's species and harbor the diversity of living beings – Landscapes and biodiversity
Landscapes approaches are about multi-stakeholder governance, and inclusivity of all groups especially traditionally marginalized ones. Many challenges and untapped opportunities remain to be addressed.
Investing in landscapes amounts to investing in a better future
A multitude of policies and approaches fit under the umbrella of landscape approaches
Latin American landscapes embody key challenges at the interface of natural resources, society, and global issues
Other landscape resources and datasets
In addition to the references provided in the previous section, the following resources and datasets could be useful to find compelling facts and figures about landscapes and landscape approaches.
Please note that this list is indicative – we strongly encourage participants to draw upon (a) multiple disciplines, areas of work, sectoral information and sources featured here, and (b) facts, figures and data not included on this page.
You can use, Zanran, a search engine designed to find data and statistics, is an effective tool to research more statistics and datasets.
Global Landscapes Forum Partner resources
Other sources of data
Click here to download the full list of cited references.