Do you:
Find it difficult to network at big conferences?
Feel shy to put up your hand and say something at side events?
Struggle to understand the political and technical jargon used by climate change and sustainable development folks?
Want to build all these skills and meet a bunch of like minded young people and professionals interested in youth issues?
60 young professionals who answered "yes" to the above questions took part in a pilot masterclass program run by professional trainers just prior to December's Global Landscapes Forum in Peru. Hundreds more participated in interactive webinars. We've made all our resources freely available, so please download and watch the documents and videos linked below.
Our work with young people in landscapes sectors is only just beginning. We are currently conducting a thorough review of our entire program and, in the lead up to the 2015 UN climate conference in Paris, want to pilot more creative and collaborative problem solving events and a stronger skill building program.
---
Resources
Masterclass resource booklet
This is the booklet that all masterclass participants were given – some great resources to help you build your facilitation, pitching, networking and critical thinking skills. Download it by clicking on the image below.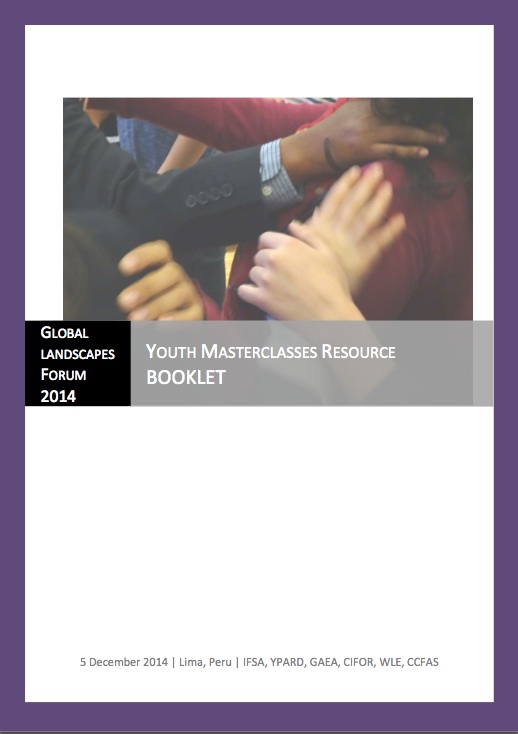 Skill building webinars
  
Friday November 14

08:00 Peru/14:00 CET/20:00 Bangkok

The art of pitching an idea

Applying for funding? Have a job interview? Learn the art of framing your message for different purposes, audiences and outcomes.

Monday November 17

06:00 Peru/12:00 CET/18:00 Bangkok

Tips and tricks for facilitating a discussion 

What skills does a facilitator need? In this webinar we talk about how to create a comfortable environment, becoming self-confident, process vs content and making yourself vulnerable.

Using practical examples, our second webinar takes you through the decision making process of choosing the right facilitation tool for your discussion. We also cover some of of the golden rules of facilitating a discussion as well as common mistakes and how to avoid them.

Friday November 21
How to network (materials here)

This video and written guide outlines he key skills and tools needed to effectively network, and guides you through the practical steps of developing your "networking action plan".
Wednesday November 26

09:00 Bangkok/03:00 CET/21:00 Tuesday 25 Peru 

What are landscape approaches?

You may have heard the term "landscapes approach" but what does it actually mean? Find out why the approach is important for sustainable agriculture, food security, forestry and climate change adaptation and how it aims it change the way that land is governed.
What are the youth masterclasses?
Despite increasing commitments for youth representation in committees and at conferences, there's not been a space for sufficient mentoring and skill building opportunities so young people can effectively contribute to discussions, network and become better professionals.
We want to build the skills of youth to become leaders and give them a space to effectively contribute to innovative cross-cutting solutions to land use, climate change and sustainable development issues.
That's why we're offering a series of online and offline skill and knowledge building masterclasses in November and December, run by professional trainers.
Download the concept note here.
What skills and knowledge will you build?
On Friday 5 December (the day before the GLF youth session on December 6), 40-60 young professionals and students will learn how to:
Each of these classes will have an online component, which will be offered in November.
I didn't really come to COP20 to go back to school…
Good, because this will be nothing like school!
We will be using cool new ways to make this event fun, interactive and participatory. However, we will be setting a mission or two for you to complete at the Global Landscapes Forum to showcase the skills you have learnt 🙂
Agenda
But I want to go to all the masterclasses!
As we have a lot to cover in a short space of time, you will only be able to attend one masterclass stream (i.e. Facilitation OR critical thinking OR pitching) plus the networking masterclass. However, we plan to make materials from all masterclasses openly available to encourage widespread learning.
You will receive…
A certificate of completion, which you can reference on your CV as professional development
A resource booklet with reference material to help you further the skills you learn
Opportunities to take on leadership positions at the Global Landscapes Forum (previous youth leaders have been asked to moderate discussions, MC high-level panels etc)
Mentorship from older and younger professionals
Access to professional trainers
A new network and long-lasting friendships with young professionals/students from across the world!
Selection criteria
Unfortunately we only have a capacity of 40-60 participants so all applicants will be going through a selection process. To be eligible, you need to be:
Between 18 to 30 years old
Registered to attend the Global Landscapes Forum (register here)
The masterclasses are free but unfortunately we cannot provide funding support for selected participants.
How do I register?
Registrations have now closed. Selected participants will be notified by email.
The organisers
The youth activities at the Global Landscapes Forum are being organized by youth, for youth. Our implementing organizations are YPARD, IFSA, GAEA and CIFOR.
If you'd like more information about the masterclass or would like to sponsor the session or participants, please contact Marina at marina.cherbonnier@ypard.net.
This masterclass is organized by youth, for youth. Here are the awesome group of people that are making this event and the youth session (which you should register for if you haven't already!) possible.
Role
Lead/s
Overall coordinator

Michelle Kovacevic Michelle is a science communicator and has experience organizing capacity building programs for youth, journalists and researchers while working for the Center for International Forestry Research (CIFOR).

Funding

Marina Cherbonnier Marina is YPARD's Web and Communications manager (Young Professionals for Agricultural Development).

Masterclass design

Marina Cherbonnier

Bunmi Ajilore Bunmi is a visiting researcher at the International Center for Tropical Agriculture (CIAT), a science communicator for the CGIAR Research Program on Climate Change, Agriculture and Food Security (CCAFS) and a member of the GFAR/Foresight Forward Thinking Platform.

Sarah Dickson-Hoyle Sarah holds the position of CIFOR Liaison Officer with the International Forestry Students' Association.

Florent Kaiser Florent is a young, passionate forester who is keen to overcome barriers between youth and older professionals to ensure a smooth transfer of knowledge, skills and innovative problem solving.

Youth session design

Michelle Kovacevic

Abby Waldorf Abby is a communications and engagement specialist for the CGIAR Research Program on Water, Land and Ecosystems.

Partnership scoping

Florent Kaiser (international partners)

Martha Cuba (regional and national partners) Martha works as the Center for International Forestry Research's (CIFOR) Communications Coordinator for Latin America.

Paola  Coronado Werner (local partners) Paola is Head of the UNFCCC Sub-Commission at the International Forestry Students Association.

Marketing

Natalia Cisneros Natalia is Vice-President of the International Forestry Students Association and is based in Lima, Peru.

Anna-Sarah Eyrich Anna is part of the Global Agroecology Alliance (GAEA) and is currently participating in a systematic review of climate smart agriculture practices for the world Agroforestry centre (ICRAF).
MASTERCLASS DESCRIPTIONS
Contributing to a discussion and pitching ideas
This masterclass will include theoretical and practical exercises on how to talk about your work/ideas/messages in a succinct and targeted manner that can be easily understood, whether it be in conference sessions, meetings, coffee breaks or negotiations. You will engage with each another to practice your pitches, revise them, and four of you will present to a panel of experts who will provide feedback.
You will:
Understand the art of 'framing' messages for different audiences
Learn to present an idea/opinion/message clearly and succinctly
Develop personal confidence in presenting yourself and your ideas
Get practical experience crafting your own "pitches"
*******
Facilitating a discussion
This masterclass will equip you with the skills and confidence to effectively facilitate group discussions. We will build on your current facilitation skills and clarify what facilitators do and do not do. We will explore several different facilitation tools and methods, the decision making process behind selecting and adapting each tool and practice how to apply these skills effectively.
You will
Understand your role as a discussion facilitator
Develop personal confidence in using a range of facilitation skills and tools (verbal and non-verbal)
Practice designing your own facilitated event
Reflect on your own personal learning and ideas for refining your own facilitation practice in the future
*******
Critical thinking and understanding landscapes
This masterclass will help you develop the critical thinking and analytical skills needed for active participation in conferences and decision making processes. Through a series of practical exercises and special guest contributors, you will be able to explore the technical and political issues of climate change, sustainable agriculture, food security, forestry and the overall landscape concept.
You will:
Become a more active listener – asking the right questions and gaining insight into key arguments in discussions/negotiations
Identify/break down key argument points and learn how to address these points.
Become better at finding reliable information and bringing together diverse perspectives
Better understand the technical and political issues of landscapes and climate change adaptation/mitigation, and the extent to which they influence COP negotiations.
******
How to network
This masterclass will take you through the process of preparing a 'networking action plan' for the GLF, as well as the theory and skills needed for making introductions and presenting yourself. You will apply these skills through a range of networking activities with both young and more senior professionals.
You will:
Understand, and have learned how to prepare for, the different stages of networking: before, during, and after the event
Develop personal confidence in approaching and connecting with people you don't know
Understand how to make a great first impression, and have worked on your voice, body language, and reading social situations
Practice introducing yourself and their peers
Gain experience in networking with professionals and peers