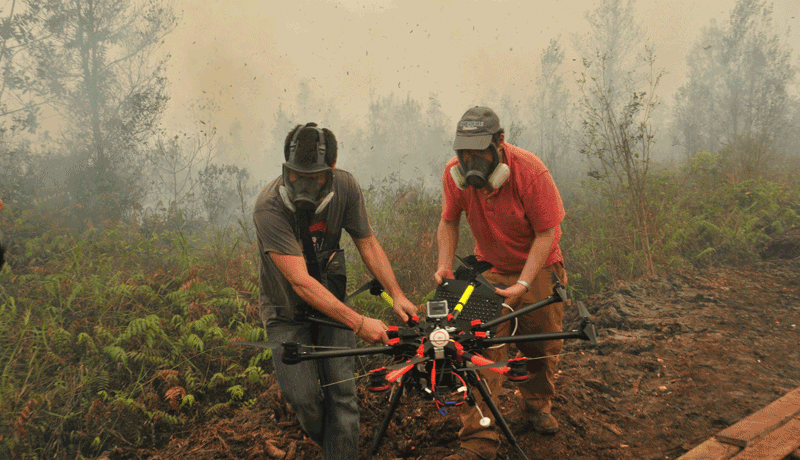 Global Wetlands Map
Numerous efforts have been made to assess the extent of global wetlands. However, estimates of those wetlands have been found to vary four-fold in modeled area simulations. A new interactive map developed by CIFOR addresses some of the issues with such mapping and monitoring, based on the premise that combining different data sources is the best approach. With satellite images of the tropics and sub-tropics, precipitation data and topographic information, among others, the Global Wetlands Map offers a new and better understanding of wetland and peatland distribution, including identifying massive peatland areas in Latin America and Africa not yet delineated.
Join scientists to discuss this mapping work, and how their research develops a deeper understanding of the location of peatlands throughout the world and such specifics as peat depth – and why it's important.
---
Drones in Landscape Ecology and Peatland Research
Drones are all the rage these days, and while you may have encountered personal drones for everything from taking selfies to spying on the neighbors, increasingly they are being used in cutting-edge research in mapping and monitoring landscapes.
Chat with a team of scientists using drones to gather data for landscape ecology and peatland research, and experience the technology up-close.
---
The Borneo Atlas of Deforestation and Industrial Plantations
The island of Borneo – shared by Indonesia, Malaysia and Brunei – is rich in rainforest. In 1973, two-thirds of the island was covered in lush old-growth. Borneo also supplies a good portion of the world's palm oil, and is a major centre for pulpwood production. By 2016, 19 Mha of forest had been cleared (or about twice the size of South Korea), with 3.8 Mha of this being on peatlands. This represents one of the highest rates of deforestation in the world.
With these stark figures in mind, CIFOR scientists have developed an Atlas of the island to document the impact of global palm oil and paper consumption on Borneo's pristine ancient rainforests. The Atlas of Deforestation and Industrial Plantations in Borneo builds on more than four decades of LANDSAT satellite imagery. It reveals the extent to which the old-growth rainforests of Borneo have been degraded by industrial logging and wildfires, or converted to industrial plantations of oil palm and pulpwood since 1973.
The Borneo Atlas is available online from laptop, tablet or smartphone.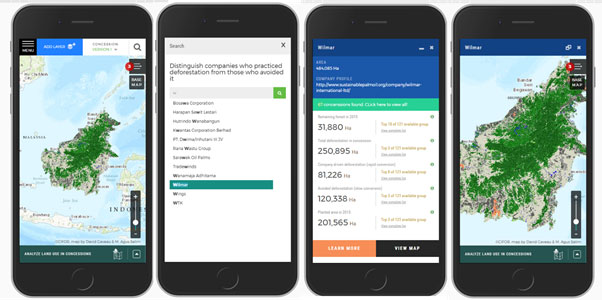 From the palm of your hands, the Atlas reveals who controls the lands where deforestation happens, and where plantations expand using a number of concession and soil maps indicating land ownership and soil type for oil palm and pulpwood plantations. With a search tool, users can extract the deforestation footprint of a group of concessions belonging to a conglomerate, or concessions that have similar biological attributes (for example, all concessions on peatlands).
Which peatlands remain intact on the island? Who is draining and planting on peatlands? What role do global supply chains play in the degradation of peatlands? How can we verify corporate commitments to sustainable palm oil?
These are just some of the questions that will be addressed as we discuss this open platform for companies, governments, researchers, advocacy groups and anyone interested in deforestation, land use and land use change and transparency.
Join us to explore this ground-breaking work that combines historical data, the newest science and technology and issues of industrial expansion at the GLF: Peatlands Matter Landscape Lab.