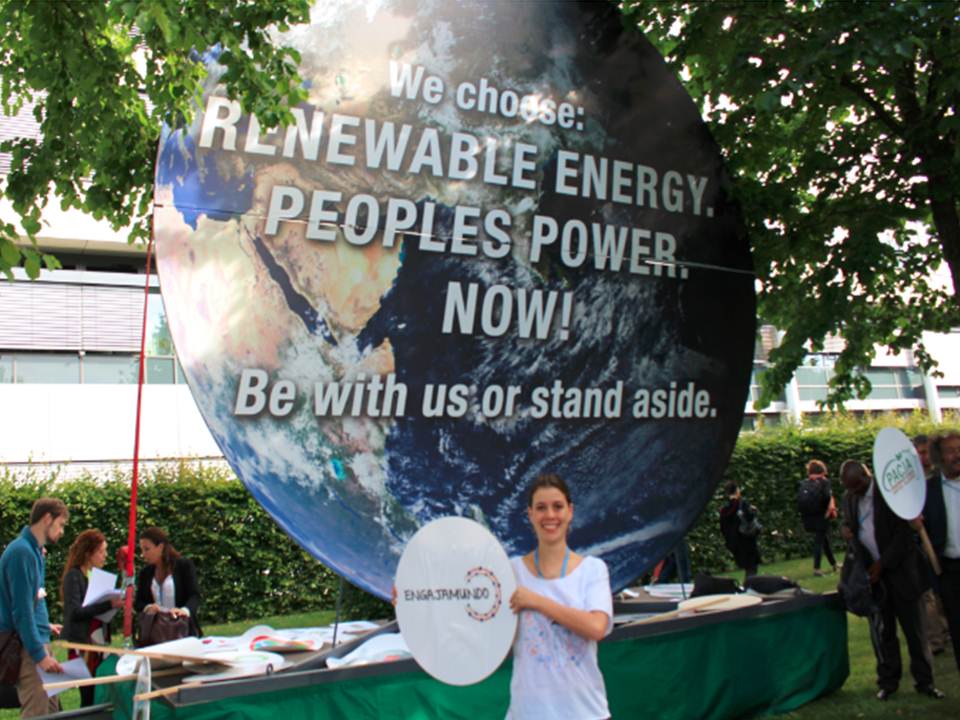 Raquel Rosenberg will be facilitating a discussion at the youth session on the GLF theme of 'implementation of integrated landscape approaches'.
Learn more about the GLF youth session here! If you will be attending COP20 in Lima, build you professional skills and knowledge by attending the youth masterclasses.
My mission in life has been, since I remember, to work with people and organizations that seek convergence in ideas and purposes for the creation of a better and more sustainable world. To make a change as big as this challenge asks for, I decided to study International Relations and I can say I didn't get a lot of what I know today from college.
From the boring classes about the theories of the international system, I decided to take some risks and have new exciting experiences. As coordinator and director of AIESEC and responsible for iBrics – The BRICS Institute, I had the opportunity to undertake various projects and events of innovative character and discovered some of my entrepreneur skills.
By the middle of my graduation, in 2012, an important event that absolutely changed my life was about to happen in Rio de Janeiro: the Rio+20. A few months before UN's Sustainable Development Conference, I realized, together with a group of friends, that almost no one in Brazil, especially young people, knew about the importance of Rio+20. That was when we decided to create the College Committee for Rio+20, to act in the mobilization and engagement of youth for the conference. We say that we definitely increased the number of young Brazilians attending the conference, but the participation itself was not that successful…
…As the negotiations moved on in Rio, we saw YOUNGO and youth movements from all around the world taking their demands and developing their campaigns to pressure the governments for progress. We, however, found ourselves going in circles, from one place to another, without knowing exactly where to take our ideas and question or who to talk to. That was a turning point for us and lead us to question why this happened and  figure out how to avoid this confusion in the future: we co-founded Engajamundo (which translate from Portuguese to "Engage the world"), an organization that aims to empower and engage Brazilian youth in international negotiations.
Social entrepreneurship and climate change are not well seen (if seen at all) in Brazil. Putting both together and fully dedicating my life to research, mobilizing and capacitating young people has been a daily trial. Fundamental steps of Engajamundo's  1st semester of existence included participating in spaces such as the Journey of Learning in Activism and Mobilization, the School of Activism, Global Power Shift (organized by 350.org in Turkey), and the Workshop of Latin American Youth for Climate, organized by CliMates in Colombia, were fundamental steps during the 1st semester of Engajamundo's existence.
By the end of last year, we made a crowdfunding campaign that enabled us to take our first delegation (which I was part of) to an international negotiation in Warsaw –  COP19! The experience was exciting and challenging, just the way we like! Since then, I also attended Bonn Intersessionals in June and spoke at UNF's Google Hangout for International Youth Day 2014.
As a fellow of GCCA's Adopt a Negotiator, I have learned how to communicate climate change, and especially how to identify national problems that are directly connected to the negotiations. During this process and for reasons comparable to the size of the Amazon forest, I started to research and study deforestation, landscapes and land use, became a vegetarian and started to use my bike as transport in São Paulo (which, believe me, is a huge challenge!). For all of these reasons and for what I saw last year at the UN climate talks, today I am totally engaged in various climate lobbying, activism, and youth representation at a national level, working daily to make sure Brazil's precious lands are not destroyed by agribusiness.
I believe in the power of youth to overcome climate challenges. I believe that together we're stronger and we can build a more plural, friendly and sustainable world!
This belongs to a blog series profiling youth and leadership in landscapes. Tell us your youth story – submit blogs to landscapes.youth@gmail.com.