This article was written by a social reporter. It has not been edited by the Forum organisers or partners, and represents the opinion of the individual author only.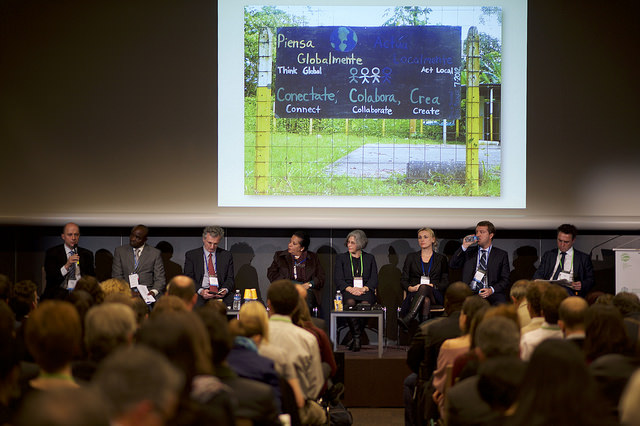 ‪At the heart of the landscape approach is the idea that everything is connected. Natural resources, biodiversity, ecosystem services and the actions of various people all influence each other and their larger context.
Mindful interventions, those that are designed to be sustainable in the long term, take this interdependence into account. That's why a successful conversation about landscape restoration will always have to be a process of careful negotiation, weighing the different aspects and inhabitants' interests against each other and balancing trade-offs.
While reforestation is a vital ingredient to a strong climate strategy going forward, playing a role in both mitigation and adaption, it can at the same time increase the price of and strain on agricultural land and thus also on our limited soil resources.
Similarly, restoration efforts have to go hand in hand with creating new opportunities for better livelihoods of the local, especially the vulnerable, populations. Practitioners must ask themselves throughout the process: how reforestation will actively contribute to the fight against poverty and food insecurity.
Highlighting this need for a holistic viewpoint based on strong partnerships was a key thought of the Global Landscapes Forum discussion on restoration from the Amazon to Africa's Mayombe Forest.
Experts debated how solutions should not just benefit any one isolated area of restoration, but affect all of them in positive ways. If they don't, they could not truly be sustainable.
Angola's environment minister Maria Fatima De Jardim and her countryman Agostinho Chicaia started off the session by discussing the multi-country initiative to protect the Mayombe forest, the second largest rainforest in the world. Chicaia, who is the project manager, emphasized how efforts cannot only focus on conservation and reforestation.
The Mayombe forest initiative is also severely affected by regional instabilities and a lack of effective, far-reaching knowledge distribution systems. Chicaia explained the need to streamline policy agendas across national borders and improve the economic viability of forest conservation to benefit the very poor local populations.
De Jardim described these efforts as, "a matter of justice," because they allow us "to acknowledge the rainforest for all that it gives us."
Robin Chazdon, Executive Director of the Association for Tropical Biology and Conservation echoed these sentiments. According to Chazdon, the first thing most people think of when they hear about restoration is, "the trees are gone, so let's plant some more!"
That can be an easy first step. It can create jobs and get local populations involved by selecting tree types and growing them in the nursery, for example.
Chazdon cautioned, however, that after planting trees, the hardest part remains: to restore the whole surrounding landscape in an integrated manner. This is a long process for which there exists no quick fix.
She illustrated that landscapes do not fit into any one photograph. They have much too far-reaching influences and implications, escaping the confines of a frame. To fully understand this interplay, lasting partnerships between science, civil society, local and indigenous wisdom, policy and government actors and the private sector are needed.
Agnieszka E. Latawiec and Bernardo B.N. Strassburg from the International Institute for Sustainability mentioned their case studies as an example of how such a partnership could work. Born out of a scientific message to policy makers, some of them are now being implemented by the Brazilian government with representatives from the sustainability science community also at the table.
Latawiec and Strassburg further emphasized that landscape restoration, at its best, has many goals and benefits. If done right, restoration efforts can benefit the poor. However, for that to work they also have to become commercially viable. Outlining different concerns and addressing the cares of different stakeholders is crucial.
Only by overcoming institutional, disciplinary and geographical boundaries the people in the landscape can pool communal knowledge and assess all aspects of the landscape together to identify harmful secondary effects, as well as possibilities for positive and lasting change.
The session was hosted by the International Institute for Sustainability (IIS), Agroicone, Ministry of Environment of Angola and AUGEO Africa.